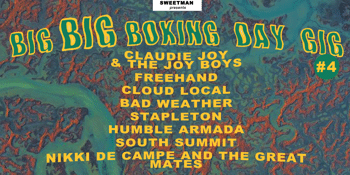 Big BIG Boxing Day Gig #4
Mojo's Bar (North Fremantle, WA)
Saturday, 26 December 2020 5:00 PM
Here we are again! As the year closes to an end to this weird and wacky year lets celebrate the good things: Friends, family and LOCAL music :) We are surely blessed.


SWEETMAN presents the 4th installment of Big BIG Boxing Day Gig at Mojos! Where do you go after being exhausted by your family during Christmas? Mojos of course! Come join your second family with no embarrassing uncles/aunts*.

8 BIG bands play from 5pm

Claudie Joy & the Joy Boys
Freehand
Cloud Local
Bad Weather
Stapleton
Humble Armada
South Summit
Nikki De Campe and the Great Mates
+ DJ SWEETMAN

*uncles & aunts welcome!