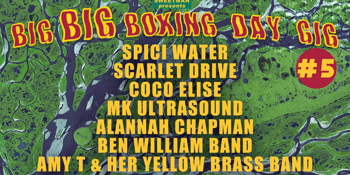 SWEETMAN
Big BIG Boxing Day Gig #5
Mojo's Bar (North Fremantle, WA)
Sunday, 26 December 2021 5:00 pm
SWEETMAN presents the 5th installment of Big BIG Boxing Day Gig at Mojos!
Where do you go after being exhausted by your family during Christmas? Mojos of course! Come join your second family with no embarrassing uncles/aunts*.
8 BIG bands play from 5pm!!
We have rock, jazz, pop, folk and soul on dis!
Spici Water
Scarlet Drive
MK Ultrasound
Coco Elise
Alannah Chapman
Amy T & Her Yellow Brass Band
Ben William Band
MORE TBA
+ DJ SWEETMAN
Let's celebrate the good things: Friends, family and LOCAL music
We are surely blessed.
*uncles/aunts welcome