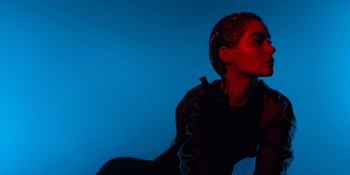 Grace Sanders
Special Guests Gazey, Smol Fish, Lyndon Blue
Mojo's Bar (North Fremantle, WA)
Saturday, 6 November 2021 8:00 pm
With a hazy blend of electro-psych-pop, Perth's self-produced singer-songwriter, Grace Sanders uses enchanting melodies that are entwined with her radical, carefree attitude all while getting wrapped up in a cosmos of dirty synths and psychedelic guitars. Since 2017, Sanders has released three singles that have displayed her songwriting diversity, vocal prowess and ability to sell-out shows which in turn has gained her a substantial social media following.

While she was working on new material – taking her in a fresh direction – she was found playing alongside artists including Psychedelic Porn Crumpets, Grevious Bodily Calm, Tanaya Harper, Dulcie and Adrian Dzvuke.

In the second half of 2020, Sanders released her newest incarnation of herself with her single 'GREEN' followed by 'NO FAIR' - both provided a taste of what was to come in 2021.

With the eloquent, mesmerizing and ever-evolving display of her maturity as a songwriter, Sanders released the lead single 'DISSIPATE' before releasing her debut EP 'GUMS' (released February 26).

Grace Sanders EP and previous releases have seen support from the likes of Triple J, Double J, Triple J Unearthed, NME, theMusic, Cool Accidents, AU Review, Acid Stag, Pilerats and many more.
With Special Guests Gazey, Smol Fish, Lyndon Blue.