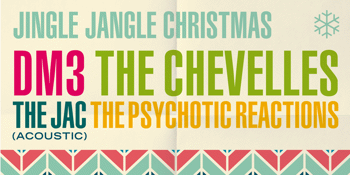 Jingle Jangle Christmas
Featuring DM3, The Chevelles, The Psychotic Reactions & The Jac (acoustic)
Mojo's Bar (North Fremantle, WA)
Friday, 21 December 2018 8:00 pm
Perth's premier Power Pop bands combine for a night of rockin' fun when they
play this years' Jingle Jangle Christmas show at Mojos Bar on Friday December 21.
Internationally acclaimed guitar pop titans DM3 (featuring Dom Mariani - The
Stems) and The Chevelles will be joined by Joe Algeri's band The JAC (acoustically) and up
and coming youngsters The Psychotic Reactions. Limited tix available.