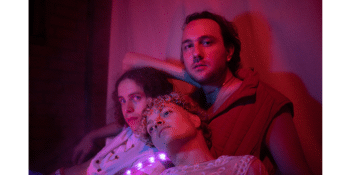 HAIRCARE 'Choir Boy' Single Launch
With Special Guests Asian Milhouse, Lo, Gia Como
Mojo's Bar (North Fremantle, WA)
Saturday, 14 August 2021 8:00 PM
HAIRCARE is an alternative rock band located in Walyalup/Fremantle. Members of the band
- Broderick Madden-Scott, Jack Gaby and Benny Trouchet have been creating and playing
music together for many years. Having developed such strong shared passions and musical
interests over time, HAIRCARE has allowed each of them the creative expression needed to
develop the bands unique and infectious music. HAIRCARE entered the hearts of local fans
with their first EP 'HAIRXARE', featuring the magical nostalgia of favourites such as 'Hot
Topic' and 'On The Side'. They have since dedicated themselves to exploring their sound
further. Unafraid to experiment, HAIRCARE traverses late night pedal combinations and
transcendent guitar sounds, paired with Broderick's powerful vocals creating music that
truly defines their unique style. After touring with San Cisco, Spacey Jane and The Babe
Rainbow, HAIRCARE found new fans passionately singing out lyrics in different states around
Australia.
'Choir Boy' is the first single to be released as a part of their upcoming collection of songs
titled 'Lip Filler'. An EP that is thematically retrospective and expressive of the vulnerabilities
when going through significant life changes. HAIRCARE now bring a completely fresh live
performance to the stage to showcase their new gems and to celebrate the release of
'Choir Boy' and the bands new musical chapter.

"Their music takes you on such a wonderful journey that sounds and feels clever, attentive,
full with personality and curiosity" - Claire Mooney, Triple J.
With Special Guests Asian Milhouse, Lo, Gia Como.