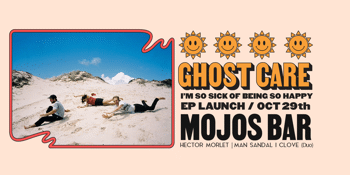 Ghost Care - 'I'm So Sick Of Being So Happy' EP Launch
Special Guests Hector Morlet, Man Sandal and Clove (Duo)
Mojo's Bar (North Fremantle, WA)
Friday, 29 October 2021 8:00 pm
Following a string of singles and sold-out headline shows under their belt, Ghost Care continue a trailblazing streak in 2021 with the release of their 'I'm So Sick Of Being SoHappy' EP at Mojos.

This year has been nonstop for the Perth three-piece so far, and this release is no exception. The beginning of 2021 showed them jumping from strength to strength, with the release of 'Kevin Garnett' in March, a rock-solid single based around a killer guitar line, a magnetic melody and a driving rhythm section, all the way to their most recent single, 'Only Friend', which captured the poppier side of their sound. Now finally complete, 'I'm So Sick Of Being
So Happy' continues not only to showcase the alt-rock trio's versatility as a band, but also captures the original energetic charm that already draws so many people to their past material.

Bound to their often-intimate lyricism and big choruses, Ghost Care's sophomore EP is also pop-fuelled and brighter than ever, carrying with it the contagious energy that the group are often known for in their live performance. Given a helping hand on the night by Clove (duo), Man Sandal and Hector Morlet, this is sure to be the Perth alt-rock group's biggest release of 2021.