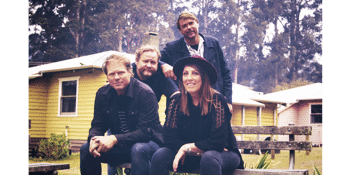 Blue Shaddy
Mojo's Bar (North Fremantle, WA)
Saturday, 23 October 2021 8:00 pm
As quoted by Salty from Salty Dog Blues n Roots Podcast/Radio, www.salty.com.au

'In the West Australian wheatbelt, Shaddy is known as a feral cat, 'Wild and Furious', just like a Shaddy gig'.

West Australian four piece Blue Shaddy are a family band that seem to fit more into one song than most do in a two hour set. To quote 'The Hollies' 'the road is long with many a winding turn'. 'He aint heavy', 'he's my brother' (Belly), then there's the wife (Sandy), and now after some 17 years away from the band drummer Dean Wuksta and original drummer is back, and there you have 27 years of 'Blue Shaddy' fresh and ready to go.

Jim McClelland, guitarist singer and main songwriter blends elements of, blues, country, and rock in his writing creating a whirlpool of foot stomping infectious energy. Taking you from a Smokey, whiskey soaked blues lounge, to funky town, then winding up drinking moonshine in the all in haystack hoe down. 'Blue Shaddy' try to involve the audience and bring them right on stage with them for the ride. Jim will always ask, 'How ya going' and he actually does mean that. and belly will dance like a mad man on hot bed of coals harmonica blasting, Sandy and Dean just sit firmly in the engine room holding it tight, allowing brothers Jim and Belly the freedom to explore the raw exuberance of each other's talents as only kin can do.

'Blue Shaddy' have independently released four albums and have been showcased in the U.S through ' Tin Records' with 'Howling Dog' being included in the New music 'Tin Records' compilation 2007. Then in 2003 selling 'Howling Dog' to MTV's TV series 'Wildboyz' (season 3). The follow up to 'Jackass' Staring Steve O.