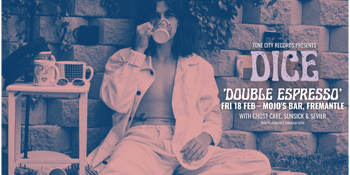 TONE CITY PRESENTS
DICE 'Double Espresso Single Launch'
With Special Guests Ghost Care, Sunsick and Sevier
Mojo's Bar (North Fremantle, WA)
Friday, 18 February 2022 8:00 pm
To celebrate the release of their latest track, 'Double Espresso', DICE are throwing a party at the hub of the Perth music scene, Mojo's!

Coming off the back of two sold out shows at Indi Bar & Milk Bar; tickets will be available soon and are expected to fly so be sure to grab one quick!
Teaming up with Sam Ford at Tone City Recording; 'Double Espresso' is the second single off their debut EP set for release in late March.

Joined by very special guests Ghost Care, Sunsick and Sevier this is one hell of a night that you definitely don't want to miss.