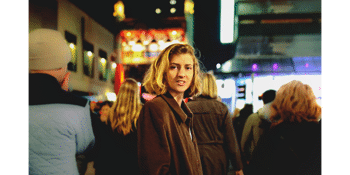 New World Artists & Teamtrick Presents
Harper Bloom - Sunflower Girl Single Launch
Mojo's Bar (North Fremantle, WA)
Thursday, 24 December 2020 7:00 pm
Perth-bred, Melbourne-based indie-folk songsmith Harper Bloom has released her latest sun-soaked single, 'Sunflower Girl', a bright and blissful track composed in a cosy Brooklyn apartment in the middle of a frosty winter, and performed live for the first time while busking in the streets of Manhattan.
A song glowing with the same warmth and charm of earlier releases that fast captured the hearts of new fans across Australia and put her on an industry must-watch-list, 'Sunflower Girl' marks as the fourth single from the ascending singer-songwriter and closes a stellar year for the BIGSOUND 50 Artist, who not only landed a new management deal with Teamtrick (Allday, Mallrat) and booking agency deal with New World Artists earlier this year, but has also risen as one Australia's most exciting new talents in the indie-folk landscape.
To Bloom, 'Sunflower Girl' was a stream of consciousness song that captured her growing experiences with her partner, from meeting and living on an island off the W.A coast to travelling the world together. These shared journeys resulted in a song that presented the unique perspective of living a life of joyful simplicity and an appreciation for each other.