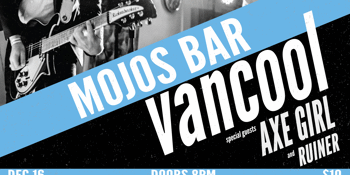 Vancool play Mojos
Mojo's Bar (North Fremantle, WA)
Wednesday, 16 December 2020 8:00 pm
Formed by Dion Mariani of Perth regulars The Flairz, Custom Royal and Ray Finkle, Australian alt-rock outfit Vancool continues to make waves in its debut year.
Following the release of 'Better Tonight', Vancool kicked off 2020 by joining indie-rock heroes British India on their 5-night return to WA. Around The Sound labelling Vancool as "One of Perth's best new bands".
"An express train of power - fearlessly inventive and full of vim, vigor, and style, we look forward to hearing more." - BuzzMusic LA
Recorded with Rodney Aravena (End of Fashion, Sleepy Jackson) 'Change Your Mind' is the second single from Vancool, "Pop sensibilities for miles and enough hooks to catch a whole ocean of fish." - Around The Sound.

"Similar tones to that of Pacific Avenue, Queens of the Stone Age, and DMA's. It's a sound we all know and love, but totally revised in a refreshing way. Vancool are definitely keeping their sound cohesive, with sweet crooning vocals over classic rock riffs with reverbed edges a major staple of their tracks. Vancool are definitely going to be your next top listen with their single 'Change Your Mind'" - LiveWire Music Australia
Following a sold-out launch for 'Change Your Mind', Vancool has continued a stellar run of shows in 2020, closing out Fremantle's iconic Hidden Treasures Festival in September 2020, and are fresh off a main support slot for Aussie rockers, and Perth heroes, Eskimo Joe. Vancool will make its debut at Fremantle's iconic Mojos on December 16 with support from Perth-favourites, Axe Girl, and newcomers, Ruiner on December 16.